In our organisation, we encourage career development on all levels.
Casbay prioritize your success, and our career map will provide you an overview of all potential career steps within our Global company. It will help you go through your growth and accomplish your future goals.

We have countless proud examples of team members who have undergone considerable career development within the organization, whether they have taken the standard route or pursued a new direction better suited to their interests and talents.​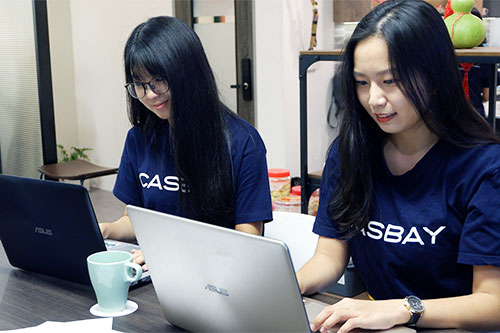 One of our principle is to never stop learning. At Casbay, we firmly believe that a person can grow remarkably when they set their goal and self-reflect. There is no greater boost to confidence than accomplishing the next steps that we set for our own growth.

Therefore, we provide you a great deal of tools to help you reach your future goals and objectives.
We had built the Casbay Platform to help our team members evolve. The Casbay Platform is our online learning platform which allows you to apply for any educational program, training, course, seminar, congress and more.

As a tech company at heart you get free access to Pluralsight, an e-learning site with a wide variety of professional courses and 24×7 available, you can master your own strategy on where and when you want to pursue your course or in-depth workout. We have followed the standard path, or forged a new direction that suits their interests and talents best.
Getting insights into your talents and abilities gives you the empowerment to develop your career even more at Casbay. To help you find your strengths we use different tooling to define your competences and talents. Using this information will make it easier to make informed decisions about how to grow your Casbay career.
Personal Development Plan
Planning for your future, setting a course for your professional growth and taking responsibility for your career path and ambitions is something we do with the support of a Personal Development Prep at Leaseweb. This will turn your goals into an action plan tailor-made and workable. Taking into account existing learning, transferable abilities, criteria for more preparation and perceived obstacles to overcome.

The Personal Development Plan is the map that ties together everything else and paves the way for your current and future achievements.