How To Make Purchase In Casbay- Quick and Simple
Here are the steps to purchase in Casbay. The process is just quick and simple!
Firstly, Visit Casbay.
And afterward, follow the guide from our YouTube video tutorial. If you are unable to watch the video, you can choose to follow the complete guide below:
Step 1 of 8
Choose a specific type of service you would like to purchase. For example, Linux Web Hosting
Step 2 of 8
Next, scroll down and look for the packages. Choose one package. (GrowBig)
Step 3 of 8
The page will direct you to Choose a Domain.  To register a new domain, type in your domain name, e.g. abcclothing, and followed by .com. Click on 'Check' to see if the domain is available. If it is, then click 'Continue'.
Step 4 of 8
You will see the lists of features of your package and there is no need to change the Configure Options as they are already fixed. Below there, you can choose the options of CDN, SSL, and Web application Firewall according to your needs.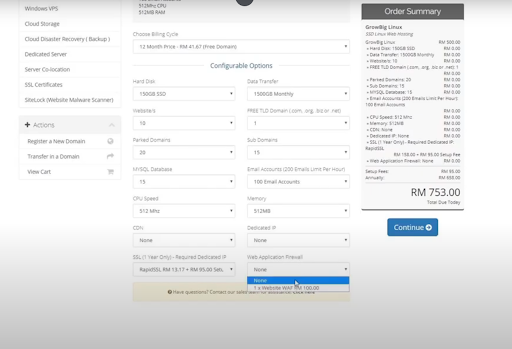 Step 5 of 8
After that, on the page of Domains Configuration, tick ID protection if you would like to protect your information from Google. It costs approximately USD7.22  for a year.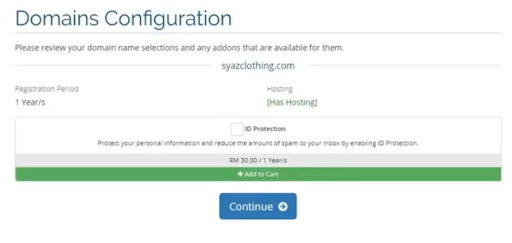 Step 6 of 8
Next, you will see your products and the total amount to pay. Please insert the promo code if you have one. Then, click Checkout.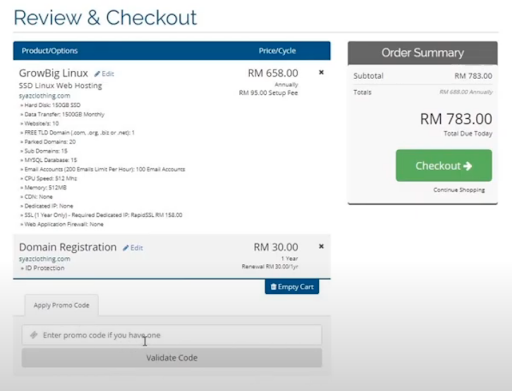 Step 7 of 8
Fill up your information, other required information, and any other boxes on this page. Tick your preferred payment method and the agreement to the Terms and Conditions before completing this order.
Step 8 of 8
After that, fill in your payment details and complete the payment. At last, you will receive a confirmation email from us.
Are you still having worries or questions regarding the process? Get in touch with us for help! We will assist you very soon.

Click here to learn about Why do the Control Panel, Support Area & Billing Area have different logins.